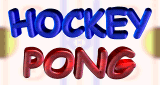 Hockey Pong is an ultra fast bat and ball game in which your goal is to score as much as possible.
Two teams meet three times for 20 seconds. Each team controls two bats: a forward and a goalkeeper. The artificial intelligence perfectly simulates human behaviors with a wide range of difficulty levels.
In addition, Hockey Pong provides a very powerful system of matchs management,including teams and events editors (cups, leagues, olympic tournaments…) allowing you to create and parameter your own tournaments.
Beyond the game, Hockey Pong is a perfect tool for sportsmen willing to improve their concentration skills.
The new 1.4 release allows to post your scores to the rankings page.

---